Cloud Computing
CompTIA Cloud+ Certification: Exam Guide with Resources
CompTIA Cloud+ Certification is the perfect way to give yourself an edge in the cloud computing industry.
With this program, you can develop multi-cloud fluency and gain the skills needed to work in broader IT systems operations.
This vendor-neutral certification validates your competence and expertise in deploying and automating secure cloud environments that support the high availability of business systems and data, making it a great way to start or advance your career in cloud computing. It shows the individual has the specialized expertise needed to work in a cloud environment.
You need to lay the groundwork for a successful cloud career. We recommend learning from up-to-date resources to gain the functional knowledge needed to pass the certification.
CompTIA Cloud+ (exam details)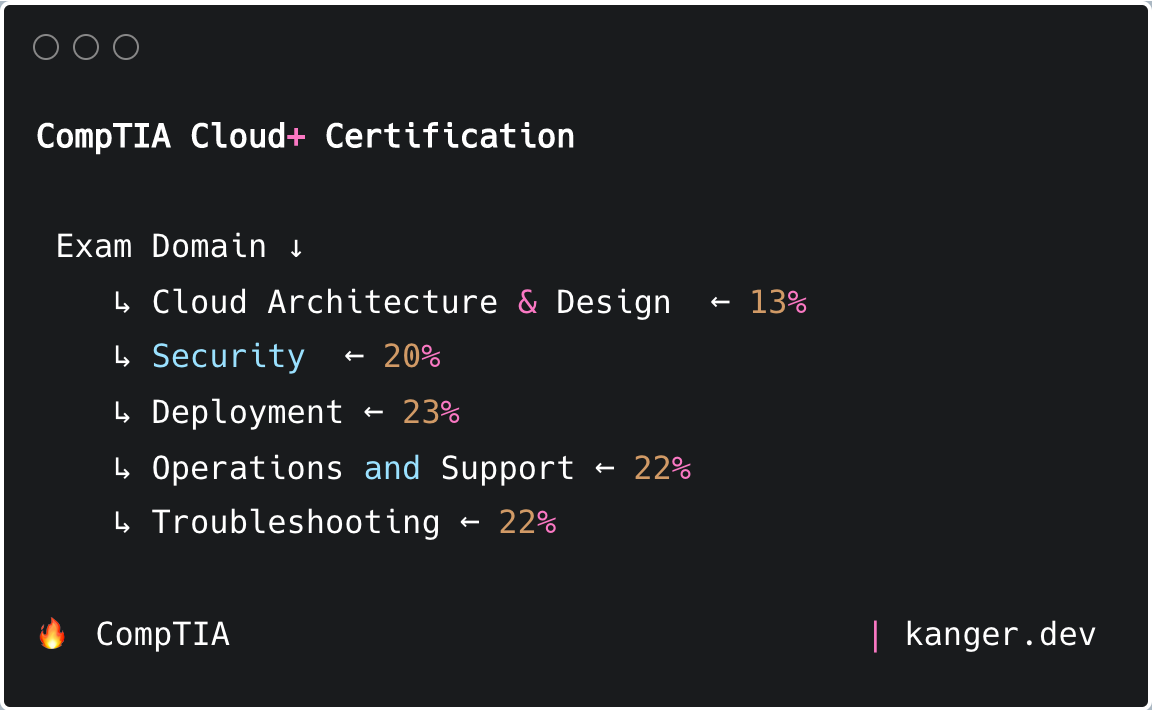 The new exam — CV0-003 — which launched on June 9, 2021, comprises five domains.
Cloud Architecture and Design (13%): This domain validates that you have the necessary knowledge, skills, and abilities to evaluate multiple cloud models and implement the most suitable one to meet the business requirements.
Security (20%): The Security domain highlights the crucial aspects of cybersecurity when applied to cloud infrastructure, including access control technologies, encryption standards, tunneling protocols, proper OS configuration and virtualization.
Deployment (23%): The Deployment domain assesses your capability to undertake the necessary steps for a successful migration to the cloud, including analyzing system requirements and allocating cloud resources appropriately, as well as making necessary system adjustments to meet the organization's needs.
Operations and Support (22%): This section focuses on optimizing the cloud environment, automation, backup and recovery for high availability.
Troubleshooting (22%): This domain evaluates your proficiency in resolving capacity, automation, connectivity, and security issues.
Provider

CompTIA, Inc.

Exam Code
CV0-003
Number of Questions
90 questions
Type of Questions
Multiple choice and performance-based
Length of Test
90 Minutes
Passing Score
750 (on a scale of 100-900)
Recommended Experience
CompTIA Network+ and Server+ and 2-3 years of experience in systems administration or networking.

Languages

English

Validity
Usually three years after launch
Testing Provider
In-Person


Online Testing

Price

$358 USD (See all pricing)
How to best prepare for the CompTIA Cloud+ exam?
Having a CompTIA Cloud+ Certification is good for those seeking data center roles, such as Sr. Systems Administrator, Cloud Engineer, Systems Engineer, Network Engineer, Cloud Specialist, or Cloud Project Manager.
The right training can help you prepare for technical job interviews and certification exams. With high-quality training resources, you can gain the knowledge to confidently handle technical and security issues, as well as stay up-to-date with the latest technologies that may arise in the near future.
---
Is CompTIA Cloud+ worth the time?
YES! CompTIA Cloud+ is a global certification program for IT professionals in a wide range of disciplines. Obtaining CompTIA Cloud+ credential, you not only give a kick start to your cloud career but also build up a multi-cloud fluency and gain a strong foothold in the cloud computing by knowing all the latest advancements in the industry.
Is CompTIA Cloud+ right for you?
CompTIA Cloud+ program validates the cloud knowledge and technical expertise needed to administer and secure valuable assets. This program is practically suitable for Cloud Engineers, Cloud Systems Administrator, Cloud Specialists, Network Engineers, SysAdmins, and professionals working in the adjacent fields.
---
Other Certifications
If you want to explore vendor-specific career paths, we've developed some practical guides with adjunctive resources.
Thanks for making it to the end ;) Subscribe to our newsletter on Substack for free resources.
Disclosure: The opinions expressed in this article are solely those of the author and do not reflect the views of CompTIA, Pluralsight, WhizLabs, StackSocial, Amazon, or their partners. This article may contain links to content on third-party sites. Kanger.dev does not promote, guarantee, approve, or endorse the information, views, or products available on such sites.
Kanger.dev is supported by our readers. We may earn affiliate commissions from purchases made through links on this site.