UX Design
Professional UX Design Courses & Bootcamps for UX Job roles
UX design is a hot career choice. It is according to Forbes the second-best job for work–life balance and the fifth most requested skill in tech.
UX Designers are most in-demand positions in tech field—one Adobe study that canvassed over 500 UX leaders and hiring managers from world leading companies found that 87 percent stated employing more UX Designers was their organization's top priority, and 73 percent assured to bring in more UX Designers over the next five years.
To become a successful UX Designer, you'll want to focus on how customers think about a product or a service. Working as a UX designer means you can apply both creative and technical skills in a wide range of fields, as your work will vary from day to day and project to project to ensure the user journey is engaging and experiences best. Therefore, it is imperative to concentrate on the UX fundamentals to learn the minds of the people you design for and to make your designs much more powerful.
There is a tremendous diversity in UX job titles, but the demand for hiring UX designers will remain a top priority across all industries. For this reason, it is one of the best paying job in technology with salaries that can range as high as $128,000.
This UX study guide should help you take the first steps toward a rewarding career in UX design. UX design courses and bootcamps for learning the various intricacies of user experience (UX) design are an increasingly worthwhile investment, as most companies value demonstrable skills.
We've rounded up 7 of the best online UX design courses to take in 2022. We'll give you a quick summary of each course with career outcomes from the training content, so you can pursue your career goals with the one best suited to your frame.
Without further ado, let's look at the best options!
Top 7 Professional Online UX Design Courses & Bootcamps
These programs offer Ivy league UX education by blending experiential and real-world learning with UX design theory that promises to deliver graduates all the relevant UX designer skills crucial to thrive in a growing field.
---
Udacity's UX Designer Nanodegree program aims to take students from beginner-level to job-ready in about three months. The program doesn't require any prior experience and guarantees a career support in the UX Design field for all students who successfully graduate.
The curriculum used by this program focuses heavily on allowing you to research, examine, and tackle real-life scenarios faced by UX designers. This approach aims to equip you with the UX skills and experience you need to match DesignOps' demand and walk into an entry-level job to thrive from day one.
It is best for absolute beginners to learn everything from the scratch and become fully equipped with all the tools needed to succeed in UX design.
Career Outcome
This program teaches the crucial skills all UX Designers possess for designing web or mobile apps. It combines immersive learning, UX portfolio development, and career development in order to create job-ready UX designers.
This job-focused program includes guidance with a capstone project to help you build a UX Portfolio case study and provides training in networking and interview skills so you can land an entry-level UX job.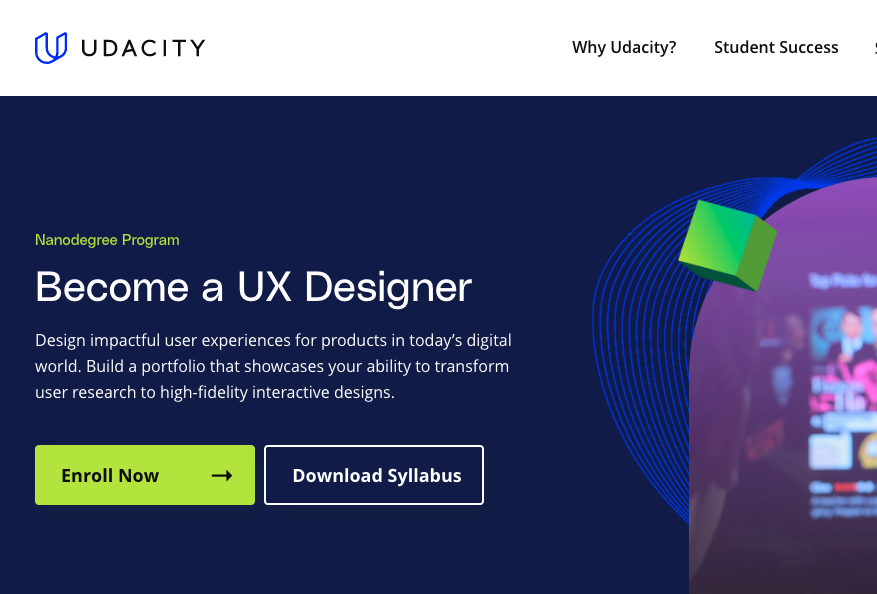 Educational Objectives
This program comprises 3 interactive courses and 3 projects, as well as a Capstone project.
UX Design Fundamentals
Design Research
Concepts to Low-Fidelity Prototyping
High-Fidelity Prototyping to Post-Launch Analysis
UX Portfolio Design
Is this program right for you?
This Nanodegree program is suited for individuals aiming to change careers or start their journey now to succeed in a User Experience (UX) Designer role. It is ideal for absolute beginners who want to learn how to create development-ready designs and build a UX portfolio to demonstrate UX skills for job roles.
---
The Google UX Design Professional Certificate is a flexible training program that covers all the essentials of UX design and it's great if you're looking for a detailed overview with an intense practical component to learn necessary interaction design concepts for products, websites, applications, and physical objects. These lectures are super engaging—and all the courses are highest-rated on the internet.
This program is highly interactive and developed by Google employees with rich experience in UX design. You will explore an expert-curated curriculum that emphasizes UX design process, hands-on design projects, and career-related coursework to help you develop design fluency with common UX tools and techniques.
Career Outcome
This program is geared towards beginners who seek to get started in the fast-growing field of user experience design with a professional certificate developed by Google. The training program includes instructions and hundreds of practice-based activities and assessments useful for success in the workplace.
If you want to kick-start a career in UX design, or you're currently a designer wanting to learn UX design, this professional program is an accessible and affordable option for getting a solid introduction to the field. You will also learn to work with the popular UX design tools to wireframe, prototype, and test your designs.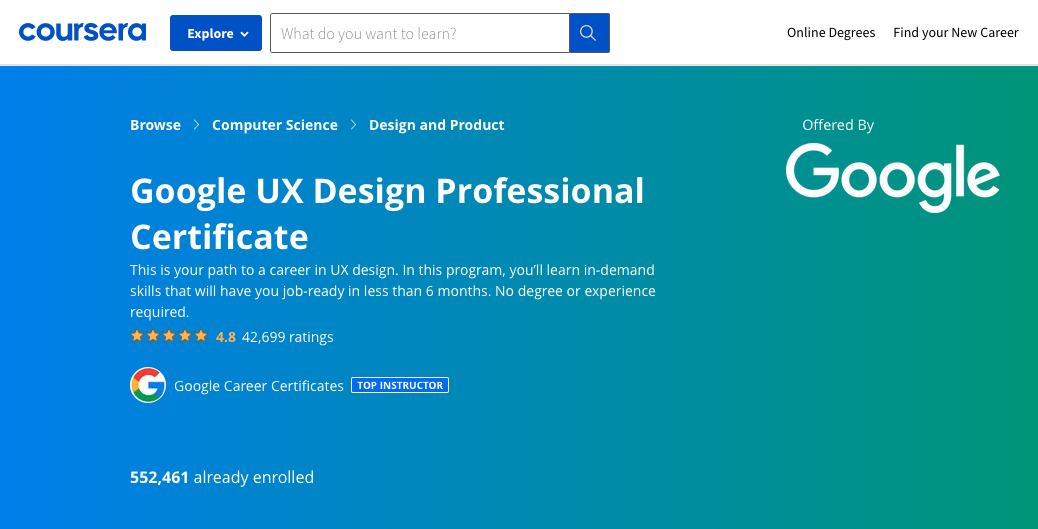 Educational Objectives
There are 7 courses in this professional certification program that introduce learners to UX design as a systematic and data-driven process.
Foundations of User Experience Design
UX Design Process: Empathize, Define and Ideate
Build Wireframes and Low-Fidelity Prototypes
Conduct UX Research and Test Early Concepts
High-Fidelity Designs and Prototypes in Figma
Responsive Web Design in Adobe XD
Designing User Experience and Job preparation
Is this program right for you?
This professional certification program is best for students who are not familiar with the basics of design principles and wish to get an overview of the field. It is 100% online and you'll receive a Google Certificate after finishing the projects.
---
MIT offers one of the longest-running, 6 weeks online Human-Computer Interaction course to give learners the opportunity to gain access to MIT faculty research and help expand their UX skills in their current position by developing UX design know-how.
The program explores the current state of user and computer interaction to help learners develop fluency to implement Human-Computer-Interaction (HCI) concepts and research to improve both user experience (UX) and user interface (UI) design.
Career Outcome
This learning program is best to learn Human-Computer-Interaction (HCI) concepts by reflecting on non-traditional interaction, speech recognition, rapid prototyping, etc. It's suitable for learners who are interested in exploring HCI thinking, including research and real-world applications, to start a new career as a User Experience Researcher or a UX Designer.
You will become highly equipped to integrate HCI thinking into your projects, building on your present knowledge of UX design to explore even better opportunities. It's ideal for those who are ready to build up advanced UX skills to conceptualize better interface designs.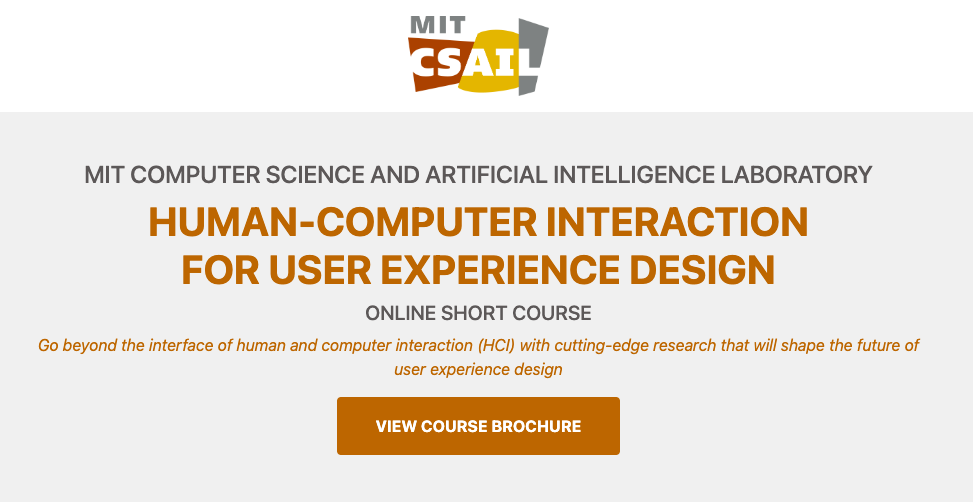 Educational Objectives
The program is divided into 6 modules that focus on the possibilities of HCI for the enhancement of user experience.
Essence of interaction design
Natural Interaction
Collaborative computer interaction
Intelligent user interfaces and prototyping
Multimedia, speech, and vision in computer interaction
The future directions of user interaction
Is this program right for you?
Guided by the industry insight, this training program provides access to the forward-thinking research that is changing the face of human-computer interaction. It's suitable for designers wishing to make a lateral career move in human-computer interaction.
---
SkillShare is an excellent platform for learning creative UX design skills from experienced professionals to study basics and advanced concepts of user experience design.
SkillShare welcomes everyone who wants to learn UX design, absolute beginners who want to pivot into digital design, designers owners who wish to optimize their online presence, developers who want to expand their skill set, and more.
Career Outcome
SkillShare offers a multitude of UX design lessons so that you can learn skills you need to secure your first UX design role. These lessons are designed by experienced UX designers to prepare students for entry-level UX design jobs and to create a professional UX portfolio.
Most lessons are a superb choice for multi-disciplinarians whose work extends beyond the traditional confines of UX design.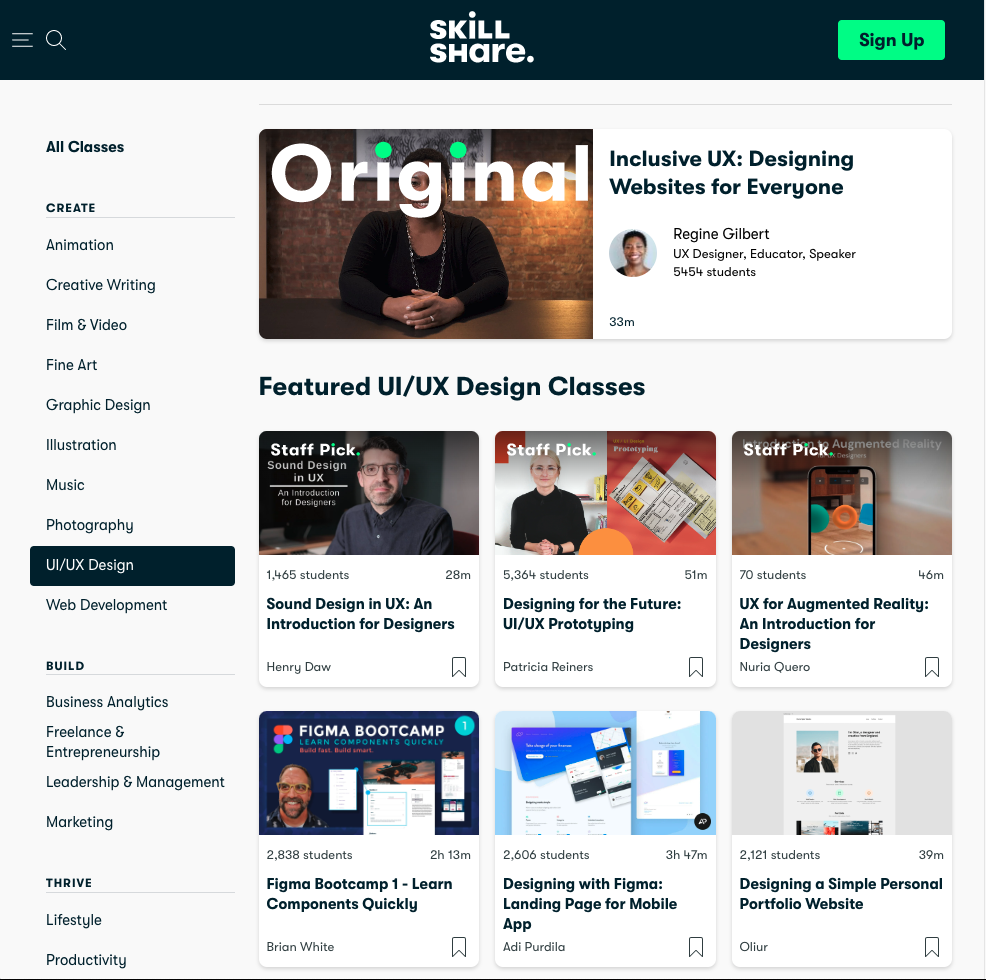 Learning Objectives
You can create your own curriculum to build essential UX skills step-by-step that we've discussed in the UX Designer Skills article.
Is this program right for you?
SkillShare lessons are suitable for those who have a knack for learning independently and answering their own questions.
---
The UX Design Certification program from the National University of Singapore (NUS) aims to teach beginners the skills they'll need to create practical and intuitive end-user experiences. While it is a beginner-level certification program, learners can still expect to cover all the bases of an interaction design process—including UX research, wireframing, prototyping, UI design, usability testing, etc.
This program delves into the essential principles of user-centred design. You'll explore common design constraints and learn to place the end-user at the forefront of your design decisions. You'll also learn UX Wireframing in Figma and understand how to design a minimum viable product with a focus on usability.
Career Outcome
This UX Design Certification program is suitable for beginners, experienced designers, and developers who want to strengthen their UX design skills. It's also suitable for startup founders, application developers, and marketing executives who want to enhance their business performance by applying UX principles.
The program prepares students for entry-level UX design jobs and helps students create a professional UX portfolio to optimize their online presence and expand their skill set to pivot into digital design, and more.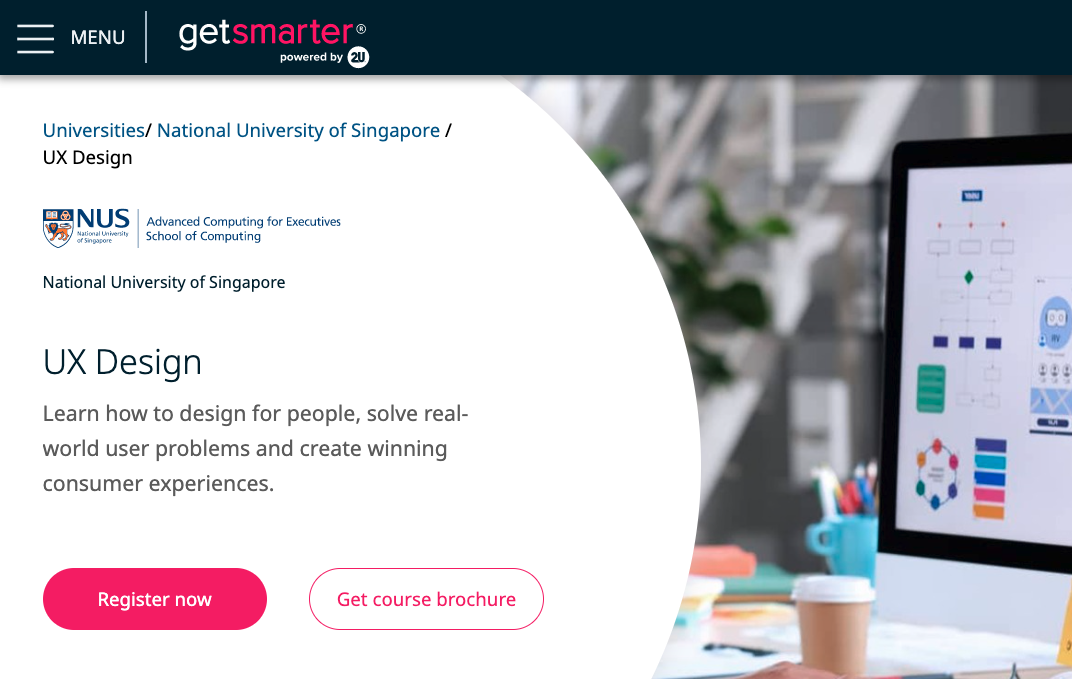 Educational Objectives
The program is divided into 3 modules that focus on building real-world UX skills and you will also learn UX design tools through a mix of videos, readings, hands-on activities, and assessments.
Designing User Experience
Applying usability goals to assess your design
Empathetic design thinking
Putting the user first and the product last
Is this program right for you?
Hosted on GetSmarter by 2U, this training program equips students to complete the UX design process from start to finish. It's suitable for beginners, graphic designers, and developers wishing to make a lateral career move from adjacent fields, such as graphic design, product management, or marketing.
---
The California Institute of the Arts—UI/ UX design Specialization program offers a foundational exploration of UI/ UX design to help learners master design-centric approach to user interface and experience design with an emphasis on visual communication design.
Hosted on Coursera, this specialization explores all stages of the UI/UX development process, from UX research to establishing the project's strategy, building information architecture, creating wireframes, etc.
Career Outcome
The program teaches the best practices and conventions in UI/UX design to create compelling end-user experiences for websites or apps. It is designed for beginners to become positively ready for entry-level UX design jobs and learn to create a professional UX portfolio to showcase their skills.
This affordable option teaches a wide variety of in-demand UX skills. It is geared towards students who want to learn UI design, graphic design, UX Design, Adobe XD, Adobe Illustrator, inVision, etc.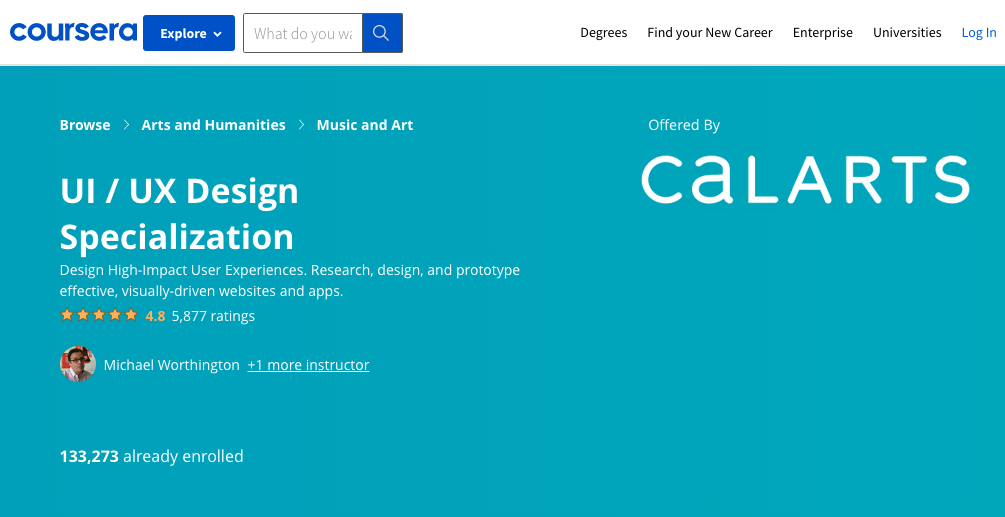 Educational Objectives
In the sequence of four courses, you'll learn to integrate UX principles and processes into your workflow.
Visual Elements of UI Design
UX Design Fundamentals
Web Design: Strategy and Information Architecture
Web Design: Wireframes to Prototypes
Is this program right for you?
This program is suitable for beginners wishing to make a lateral career move in human-computer interaction. It also caters to designers and developers to strengthen their UX skills and job switchers who want to begin a new career in UX design.
---
Developed by Interaction Design Foundation, this learning path is best for aspiring UX designers to gain a comprehensive working knowledge of UX, Product design, Human-Computer interaction, etc. This learning track explores each phase of the UX design process thoroughly to help you gain a strong sense of usability, psychology, and business to excel in your job.
After purchasing a Design League membership plan, you'll gain access to the evidence-based content, Master Classes and UX literature by experts, including a personal coach, to help supercharge your design learning through private video and chat sessions.
Career Outcome
Interaction Design Foundation provides Ivy League Level education in UX design. The instructors are most qualified industry experts to help you learn the entire spectrum of UX design.
Unlike many UX courses on the internet that teach students how to do the job of a UX designer, Interaction Design Foundation offers meet-ups in 455 cities, making this learning path best suited for those who want an opportunity to connect face-to-face with fellow participants and experienced designers to advance their career prospects.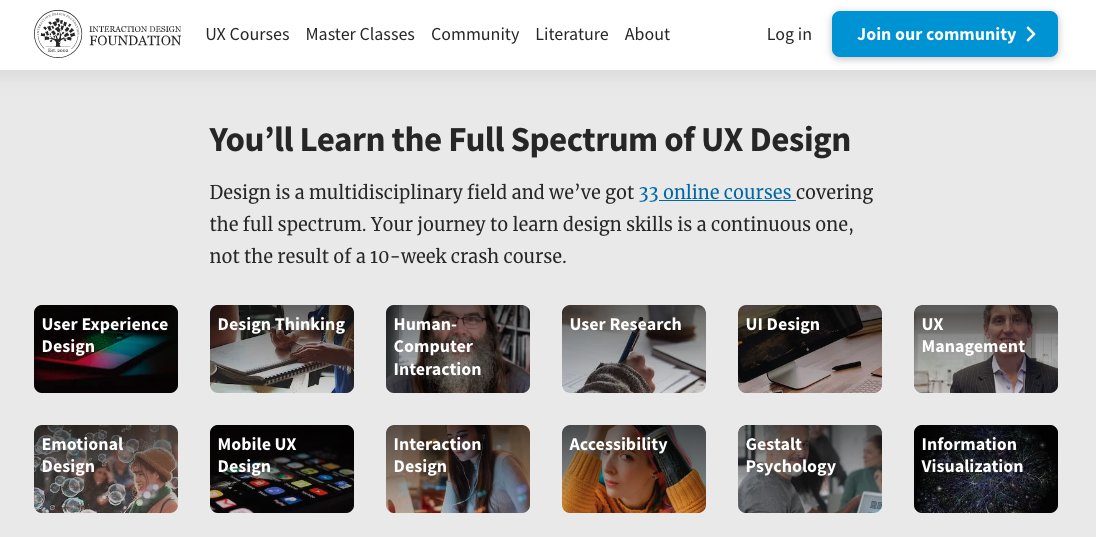 Educational Objectives
You'll learn the entire spectrum of UX design from 13 beginner to advanced level courses in 4 parts.
Foundations and Design Thinking
Human-Computer-Interaction
Journey Mapping, UI Design and UX Research
Mobile User Experience, and Emotional Design  
Accessibility and UX Management
Is this program right for you?
This learning path is very popular in the UX Community and professional designers who want to formalize their UX skill set. The program explores the entire UX design process to help students develop fluency with common UX techniques.
---
FAQs about Learning UX Design‌
To get a feel for the type of thinking involved in learning UX design, the following tips are worth keeping in mind while comparing and contrasting resources so you can find the right course.‌
---
What Is The UX Design Process?
UX Designers are primarily responsible for creating user experiences — how products and services, like a website or mobile application, make customers feel while using it.
UX Designers break the process down into stages to figure out end-user needs, develop and test ideas, and refine a design so it performs well.‌
---
Why Learn User Experience (UX) design?
You will learn how end-users think about products or services. If you learn to understand the mind of the targeted audience you design for, your designs will be powerful for creating engaging user journeys and best experiences.
---
What Is a UX Design Bootcamp?
A UX design bootcamp is like a course or a specialization learning program that transforms learners from beginners to skilled, job-ready UX Designer in weeks or months. The best UX design courses, like the ones we've mentioned in this article, offer project-based learning experience to transform your skill set for UX job roles.
---
Which UX Design Course Is Right for You?
Before you decide which UX Course is right for you, examine your priorities to decide how to learn. What are your career goals, what is your budget, and are you excited about cognitive design?
---
Will a UX Design Bootcamp Get You a Job?
A UX Design Course/ Bootcamp from educators we have mentioned in this article is likely to help you get a job, with most graduates reporting that they have found work in the field, but there are no guarantees as it depends entirely on your abilities to demonstrate your skills.
---
How Long Does It Take to Become a UX Designer?
In optimal circumstances, it will take around 500-1000 hours to become a job-ready UX Designer. It largely depends on the level of time commitment you're comfortable with and are you comfortable to study online or in-person?
Depending on your functional knowledge, you may gain the essential skills you need to become a UX Designer in as little as 3 months.
For beginners—for instance, those coming from non-technical background — UX courses are an excellent and easy way to break into the field.‌
---
Is a Paid UX Course Worth It?
Yes, paid UX courses offer MasterClasses, access the best UX literature, networking, mentorship opportunities, personalized career coaching, and access to research study. If your goal is to land a job after completing your UX course, any paid program mentioned in this article is well worth the investment.‌ Consider one mentioned in this article to build in-demand UX skills.‌
---
‌Do I Need a Degree in UX Design?
No, a college degree is not required to learn UX design. The best way, however, to build employable UX Designer skills is to enroll in a UX Course/ Bootcamp that provides a broad overview of the UX design process and tackles some simple UX exercises with real-world scenarios.
---
Closing Note
If you want to work as a UX Designer, you can. It's simple and much easier to jumpstart a career in UX design with a certification course or a bootcamp. You'll launch your career in UX design in 3-6 months and progress only by deepening your skills.
kanger.dev is supported by our audience. We may earn affiliate commissions from buying links on this site.