AWS
AWS Certified SysOps Administrator Associate—Exam Prep 2022
AWS Certified SysOps Administrator is a cloud practitioner able to create automatable and repeatable deployments of networks and systems in the AWS Cloud.
AWS SysOps Certified Administrator Exam is for system administrators in cloud operations roles.
The AWS SysOps Administrator—Associate certification validates your knowledge of AWS best practices and your abilities in monitoring, securing, and scaling systems on AWS.
According to Glassdoor, the national average salary for an AWS Certified SysOps Administrator is $100,000 per year in the United States.
It is one of the hardest certification programs, but with the help of this guide, you will prepare for the exam.
In this guide, we assume that you already know about the AWS certification path and want to prepare for your AWS SysOps Certification exam.
Before you take any AWS SysOps Course, you must have skills in deploying, managing, and operating workloads on AWS.
If you don't meet the requirements right now, consider either AWS Solutions Architect or AWS Cloud Developer Program to upgrade your skills.
However, if you have the skills, save the following infographic. It provides adequate information as you prepare for the certification exam.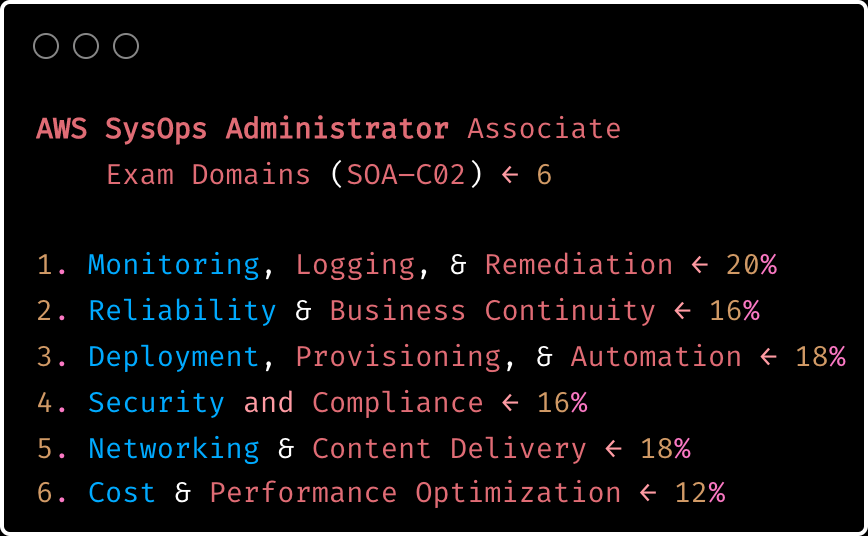 Our aim in this resource guide is to help you find the right training course to learn everything you need to learn.
So, Let's scan through these quality courses…
---
Top 3 Courses for AWS Certified SysOps Administrator Associate — 2022 Exam Prep
We have audited and hand-picked 3 Best AWS SysOps courses from Notable Educators on the Internet.
Top Instructors and Cloud Practitioners teach them.
---
This learning path covers six key areas to help practitioners gain sound skills for SysOps Administrator roles.
It is an excellent learning path for System Administrators and is created by experienced instructors on Pluralsight.
Throughout the series of 16 courses, you will not only increase in knowledge and understanding but also become highly prepared for the exam.
It is one of the best learning tracks on the Internet, with a complete set of courses for administrators to speed up their cloud career in cloud operation roles.
You will thoroughly learn ☟
Monitoring, Logging, and Remediation
Reliability and Business Continuity
Deployment, Provisioning, and Automation
Security and Compliance
Networking and Content Delivery
Cost and Performance Optimization
IS IT RIGHT FOR YOU?
This course is suitable for intermediate learners who have experience in deployment, management, and operations in the AWS Cloud.
This learning path is recommended for practitioners to become highly acquainted with important concepts in the AWS SysOps Administration.
Upon completion, you will not only be positively ready for your exam, but will also have sound employable skills for the competitive market.
---
In this intermediate-level course, you will learn to prepare for the certification exam by inspecting the exam's topics and interpreting the key concepts in SysOps Administration operations.
It is developed by AWS and taught by Top AWS Instructors on Coursera.
This course will help you examine your own ability to deploy, manage, and operate workloads on AWS.
IS IT RIGHT FOR YOU?
It is suitable for practitioners who already have the required system administration skills for SysOps Administrator roles.
You will test and polish your skills through the guided series of exercises to learn to support and maintain AWS workloads and perform important operations.
Also, you will thoroughly cover the important topics in the AWS Console required for SysOps Administration.
Upon successful completion, you will become for the certification exam.
---
This Exam Prep Course aims to prepare you for the AWS SysOps Certification exam and you will also learn to administer, monitor and troubleshoot issues in AWS Cloud.
It is offered by a highly qualified instructor, Stephane Maarek on Udemy.
This Exam Prep course refreshes your knowledge to help you thoroughly understand the important concepts from the SysOps perspective.
Plus, you will solidify your skills with a full practice test that includes explanations.
IS IT RIGHT FOR YOU?
You will gain knowledge through the series of guided lectures, exercises, quizzes presented in a logical progression.
By the end, you will have gained the level of confidence to pass your AWS Certification with good scores.
---
CLOSING NOTES
We recommend taking one or two courses to learn and practicing a lot to pass the AWS Certified SysOps Administrator—Associate exam.
If you liked this article, please join our newsletter.
We will not distract you. We will only send useful learning resources once every fortnight.
Thanks for making it to the end
kanger.dev is supported by our audience. We may earn affiliate commissions from buying links on this site.