AWS
AWS Certified Solutions Architect Associate — Exam Prep Courses 2022
AWS Certified Solutions Architect is one of the top certifications in the cloud computing industry.
This program is very popular and has attracted the highest-paying jobs as of 2022.
As a Solutions Architect, you'll be accountable for building and maintaining Well-Architected Framework pillars and exercising best practices.
You will also lead in developing cloud solutions that are secure, resilient, efficient, and highly available.
In this guide, we assume that you already know about this certification path and want to prepare for your certification exam.
The following infographic should help you with more important information for this certification exam.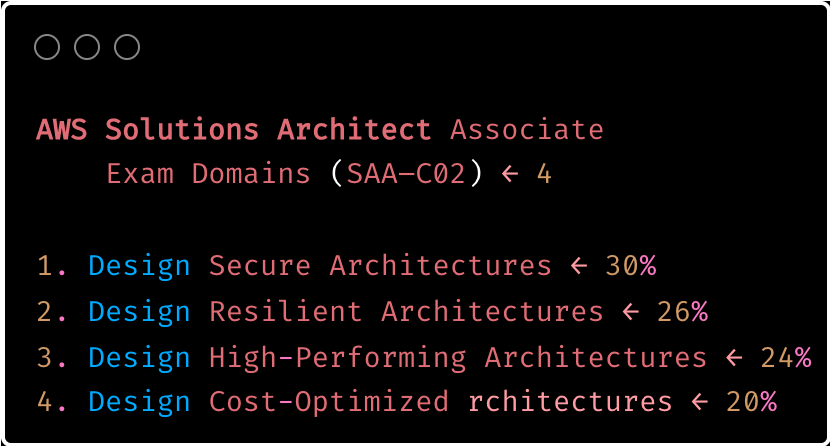 Our aim is simple. We want to help you find the best resources to learn everything you need to learn for your certification exam.
Let's dive in…
---
AWS Certified Solutions Architect Associate — Courses for 2022 Exam Prep
We have hand-picked the top 4 courses on the internet for practitioners to become highly prepared with employable skills for AWS Certified Solutions Architect Exam.
Let's scan through them!
---
This high-quality course (Nanodegree) is excellent and recommended for practitioners to become highly equipped in planning, designing, and building secure cloud infrastructure on AWS.
It is a brand new course offered by Udacity with updated training material to help practitioners learn the best practices and strategies around securing access to AWS cloud services.
You will in this Nanodegree program transform your future by learning everything about designing and building high availability infrastructure from the most experienced instructors.
Plus, this course will hone your craft and make you competitive with the most advanced skill-set.
IS IT RIGHT FOR YOU?
This is one of the best learning programs on the internet that will thoroughly guide you to learn how to design a DevSecOps pipeline for scanning infrastructure as code, containers, AMI and configurations for vulnerabilities.
It is suitable for learners who have the knowledge and some experience in Cloud computing, Web development, Linux, Programming, Databases, and CDN.
Upon completion, you'll not only become highly prepared for the AWS Certified Cloud Architect exam, but also for the competitive market.
It adds great value to your cloud career with Technical Mentorship, Project reviews and personal career coaching.
---
This course aims to support learners in evaluating their skills and knowledge for AWS Certified Solutions Architect—Associate exam.
It is offered by AWS Training and taught by their Top Instructors on Coursera.
You will step-by-step explore the 4 important domains in solutions architect roles–Designing Resilient, High-Performing, Secure Applications, and Cost-optimized Architectures in the AWS Cloud.
IS IT RIGHT FOR YOU?
This course is suitable for intermediate learners who have completed AWS Cloud Practitioner certification.
You will also solidify your knowledge and skills through hands-on exercises.
By the end, you will have gained all required knowledge and skills in tools to help you identify your strengths and weaknesses in each domain area that are tested in the AWS Solutions Architect Certification exam.
---
This highest-rated course covers all the fundamental topics for passing AWS Solutions Architect Exam with flying colours.
It is offered by a highly qualified instructor, Stephane Maarek, on Udemy.
It is very affordable and you'll gain all the knowledge and skills to become positively ready for your certification exam.
Plus, you will solidify your skills with a full practice exam and explanations.
IS IT RIGHT FOR YOU?
This course is suitable for learners who want to brush up on their skills to become prepared for the certification exam.
The instructor does an excellent job of explaining every important concept step-by-step with really helpful tips to pass the AWS Certified Solutions Architect Associate exam.
By the end, you will have the functional knowledge and skills required to complete your certification successfully.
---
This course aims to equip cloud practitioners for the latest AWS Solutions Architect Exam (Associate Level Certification SAA-C02).
It is taught by an experienced Cloud Professional and Instructor, Neal Davis and delivered via Educative
You will gain skills from learning all key topics in Solutions Architect roles such as Amazon FSx, Global Accelerator, High-Performance Computing, Amazon Aurora, DataSync, Database Migration Service and more.
Plus, solidify your skills with hands-on lab practice and assessments for your exam.
IS IT RIGHT FOR YOU?
This Exam prep course is suitable for learners who have experience in cloud computing and programming.
You will learn by doing, and this course will thoroughly cover all the critical topics you need to learn before you take the certification exam.
This course has helped over 50k learners and you will benefit from the lessons taught and become highly prepared for your certification exam.
---
CLOSING NOTE
This Associate-Level Certification helps companies identify and validate the practitioner's ability to design and implement distributed systems on AWS.
We recommend taking a few of these quality courses and practicing until you are confident that you will pass the exam.
If you are a novice, we recommend taking the AWS Cloud Practitioner exam first and then proceeding with this certification program.
If you liked this article, please join our cloud computing newsletter.
We will not distract you. We'll only send useful learning resources to you once every fortnight.
Thanks for making it to the end
kanger.dev is supported by our audience. We may earn affiliate commissions from buying links on this site.