AWS
AWS Certified DevOps Engineer Professional — Exam Prep 2022
AWS Certified DevOps Engineers are in high demand by employers worldwide.
According to Dice reports, recruiters are overwhelmingly looking for AWS Cloud practitioners and Developers with the latest "Mad Skills", which also reported a strong demand for DevOps engineers.
AWS DevOps Engineers are highly experienced in simplifying and speeding up development and operations with the AWS Cloud.
AWS Certified DevOps Engineer — Professional exam validates your skills to automate the testing, deployment and monitoring of the infrastructure and applications.
This AWS credential primarily identifies practitioners' technical cloud knowledge and critical skills in DevOps.
Thanks to the exponential growth of DevOps in recent years, companies now leverage modern cloud operational practices for DevOps. And AWS provides a wide range of services and solutions that help you practice DevOps.
In this guide, we assume that you already know about the AWS certification path and want to prepare for your AWS Certified DevOps Engineer exam.
If you need to strengthen your skills for DevOps roles, consider fulfilling the prerequisites; AWS SysOps Administrator or AWS Developer Associate exam.
With the help of this guide, you will find the right AWS DevOps course to sanitize yourself for the certification exam.
The following infographic provides helpful information for the 2022 AWS DevOps certification exam.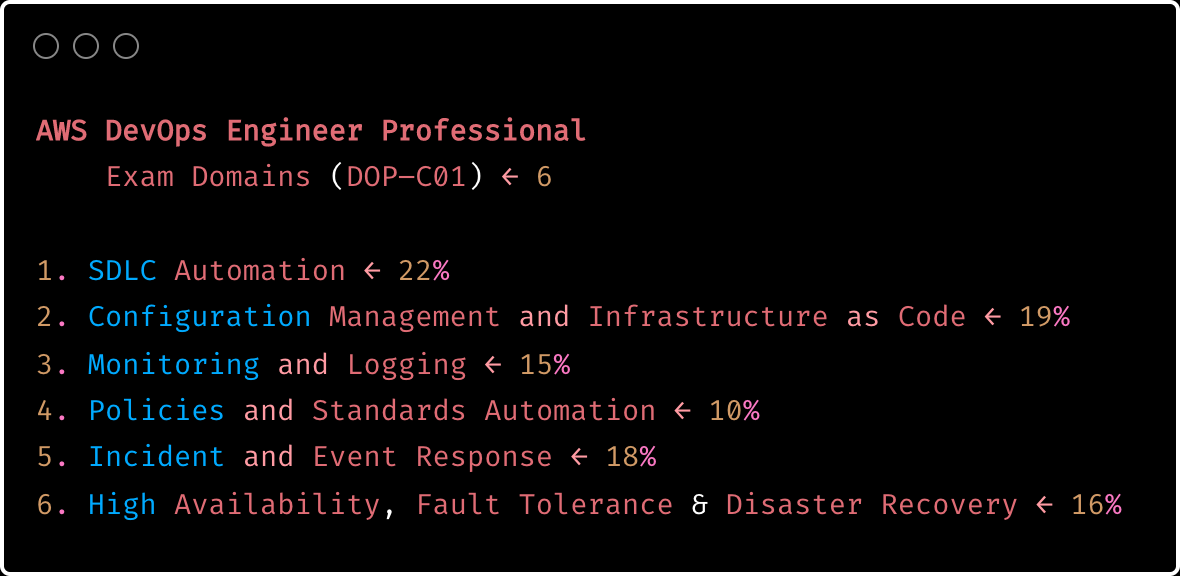 Our aim in this resource guide is to help you find the right training program to learn everything you need to learn.
So, let's dive in!
---
AWS Certified DevOps Engineer Professional – Exam Prep Courses 2022
We have audited the 5 Best AWS DevOps Engineer courses from Notable Educators on the Internet.
You'll get ahead and learn faster if you have a familiarity with AWS API, CLI, and SDKs to monitor and manage AWS services.
Top Instructors and Cloud Practitioners teach them.
---
This high-quality specialization is suitable for beginners to learn the best DevOps practices and tools to develop, deploy, and maintain applications in the AWS Cloud.
AWS offers it on Coursera and includes an applied learning project to use the combination of DevOps' philosophies on AWS Platform.
First, you will receive a thorough introduction to essential AWS cloud computing products, services, and common solutions.
Second, you will learn about source control, best practices for Continuous Integration, and using the right tools to measure code quality, by identifying workflow steps that could be automated.
Third, you will learn to improve the deployment process with DevOps methodology and gain familiarity with the tools like IaC and AWS CodeDeploy for ease of deployment.
It is excellent for practitioners, interested in Machine Learning for Monitoring operations.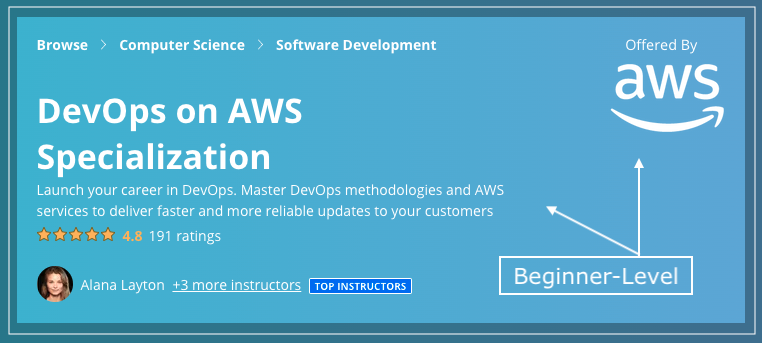 Is it right for you?
This specialization is suitable for cloud computing beginners. However, experience in programming and Web development is important.
Throughout the series of guided lectures and exercises, you'll acquaint yourself with all fundamental concepts of compute, database, storage, networking, monitoring, and security.
By the end, you will be positively ready for the certification exam and will also gain skills to use Amazon CloudWatch for monitoring, Amazon EventBridge and AWS Config for continuous compliance.
---
This learning path will equip you with the skills and knowledge for the AWS Certified DevOps Engineer—Professional (DOP-C01) exam.
It is developed by Pluralsight and also follows the latest AWS DevOps Certification exam guide.
Throughout the series of 4 courses, you will gain sound skills in provisioning, operating, and managing distributed application systems on the AWS platform.
It is one of the best learning tracks on the Internet that covers all the important topics and domains for the certification.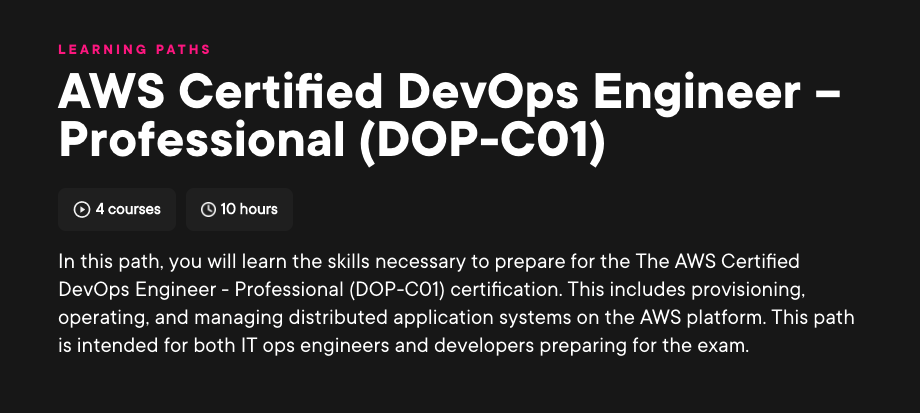 Is it right for you?
This learning path is suitable for intermediate learners who have experience in Object-oriented programming, Command-Line and basic familiarity with the learning content of the AWS SysOps Administrator or AWS Developer Associate exam content.
Upon completion, you will be highly prepared for the certification exam and will also have gained skills to conquer job interviews.
---
---
This high-quality Nanodegree program aims to equip practitioners with sound DevOps skills to design and deploy infrastructure as a code.
Udacity offers it and is excellent for practitioners to appropriate their DevOps skills for the AWS certification exam.
In this comprehensive program, you will also learn to build and monitor CI/CD pipelines for different deployment strategies and deploy scalable microservices using Kubernetes.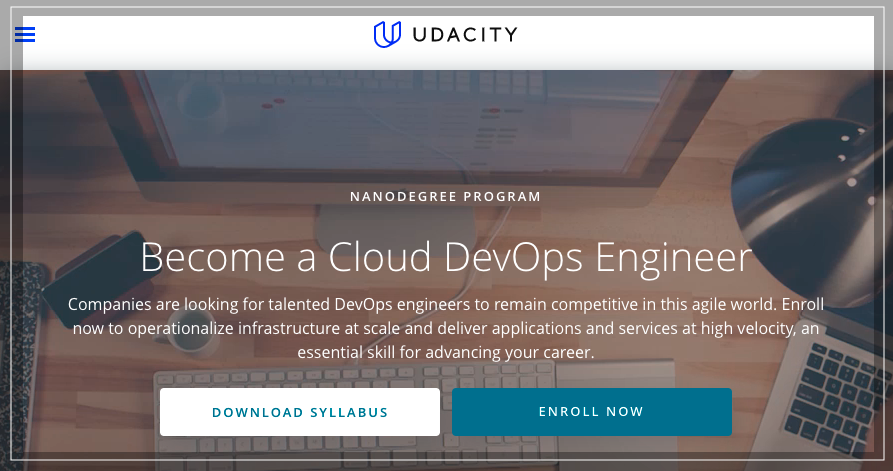 Is it right for you?
This program is suitable for practitioners who have experience in at least one Object-Oriented Programming, Web Development (HTML, CSS), and Linux Command Line Basics.
Upon completion, you'll combine your new skills by completing a capstone project to apply what you've learned to solve real-world challenges.
---
This highest-rated exam prep course aims to solidify your knowledge and skills for the certification exam with a hands-on practical lab.
A highly qualified instructor, Stephane Maarek on Udemy, offers it for an affordable price.
This course is entirely hands on and thoroughly covers all the new topics for the AWS Certified DevOps Engineer Professional DOP-C01 exam.
It is very affordable and you'll learn DevOps by doing and performing operations that will equip you with real-world skills
Plus, you will also learn to create automation between all the various AWS services
Is it right for you?
This course is suitable for learners who have either strong developer background and familiarity with AWS Cloud or hold the AWS Developer Associate Certification.
It's packed with practical knowledge and follows a logical progression of topics.
By the end, you'll be prepared for the certification exam.
---
This learning path takes you through a solid foundation of DevOps by focusing on the basics of Kubernetes and Docker container tools for building, testing, and deploying.
It is offered by educative to help learners conquer the fundamentals and also learn about computer networking.
You will also understand how chaos engineering can help improve the quality of software development processes at scale.
Plus, you will also get an introduction to how CI/CD is done by using Jenkins X.

Is it right for you?
This course is suitable for learners who have a good understanding of AWS Cloud and rich experience in Web Development, Linux Command Line and Programming.
Upon successful completion, you'll have gained skills and hands-on experience for the DevOps Certification.
---
Closing Notes
Every major company benefits from adopting DevOps because it offers rapid delivery, reliability, scalability, security, and improved collaboration.
We recommend taking one or two courses to learn and practicing religiously to pass the AWS Certified DevOps Engineer—Professional exam.
If you liked this article, please join our cloud computing newsletter.
We will never distract you and only send useful learning resources once every fortnight.
kanger.dev is supported by our audience. We may earn affiliate commissions from buying links on this site.